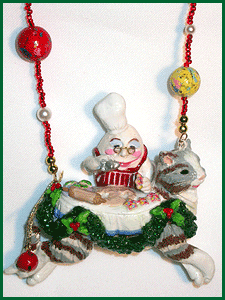 For sale Price £70
15 inch long (38cm) necklace
Approx. 3 inch figure
Moving part
Cookieman is the most talented baker on his side of the Wall. Scrumptious cookies, pies, flans, fruit cake and treakle tart are just a small selection of mouthwatering yummies. Today he's in the kitchen stamping out Christmas cookies for the Children's party tonight. A few colored sprinkles on top and voila!
His arm raises to stamp the dough with the cookie cutter.
Charm: iced star cookie
Face bead