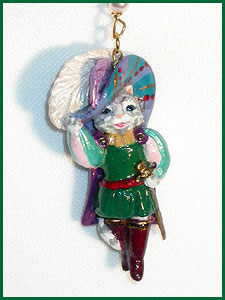 15 inch long (38cm)
bead & charm necklace.
Though Puss in Boots leads the way, the theme is really Cats. Each original charm is approx. an inch or smaller with Puss approx. 1 1/2 inches tall. These photos don't do justice to the handmade detail and painting.
The first charm is a butterfly, then
a face bead, kitty in a blue satin slipper, bumble bee, a kitty gently batting at a ladybird on a daisy, teacup and saucer, kitty sneaking cookies from a jar, and Puss himself.