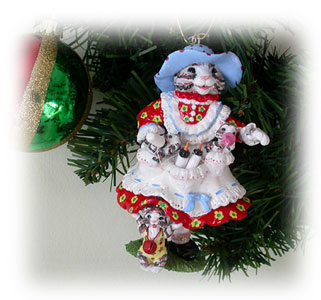 4 inch tall (10cm) figure - Moving parts

Very popular piece. Tabby Momma Cat is a miniature/tree ornament. She has three tabby kittens: two babies, one with a removable bottle, and one with a removeable pacifier/dumby. Junior, under her skirt is blowing a raspberry, as juniors do, and wears a bell.
The brass wire can be removed to stand her on a shelf or she can be made into a necklace (a popular option, flat base removed) with handpainted beads. If a necklace is what you would like please contact me to discuss this option.

One of a kind, signed and dated.