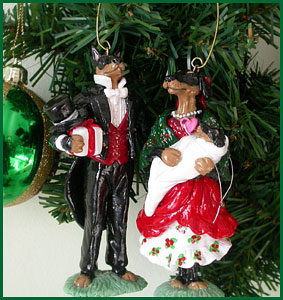 For sale Price £99
Approx. 4 inch tall (10cm)
Tree ornament or standing miniature.
Moving part

The Dobermans have arrived.
Dressed in their holiday finest, they come bearing gifts to the party. Junior, wrapped warmly in a blanket is content with his pacifier, except when he spits it out - then the howling begins!
One of a kind, signed and dated.
Many pet miniatures have been created over the years. Write if you would like your pet immortalised in a unique and whimsical way like the Dobermans.