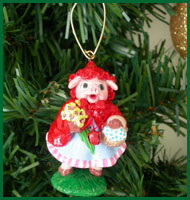 For sale Price £15
Approx. 2 inch (10cm) tall
ornament/miniature figurine

Hey there Little Red Riding Pig.
On her way to Grandmas' house, clutching flowers and a basket of goodies. Hopefully she won't be waylaid by you know who along the path.
Red bell.
One of a kind, signed and dated.