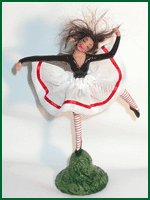 Approx. 4 inch (10cm) tall
Miniature figurine

Little Lotte is a unique little fairy doll sculpture.
She does her own thing and cares not what people think.

Her leggings are red and white striped, her skirt made of gathered white chiffon with red trim.
She stands toe point upon a grass knoll striking a confident pose.
She has small rustic translucent clay wings