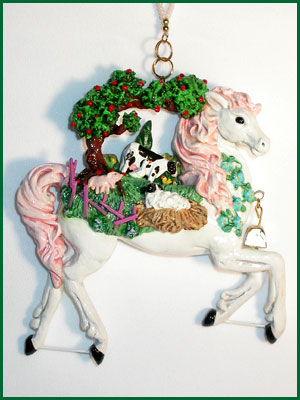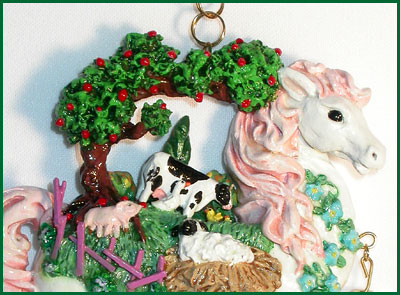 Reduced sale on this popular piece. Price £80
15 inch long (38cm) necklace
4 inch (13cm) figure

White stallion Pastoral is a haven for creatures of the meadows. On her back is a scene of pure tranquilty. A mirror (pond) is embeded in the clay so the cow stands knee deep in a cool spring. Mother duck and two ducklings float along on top, reflected. Momma sow and piglets relax in the cool grass while the lamb sleeps in the hay. A goose near the cow keeps watch over everyone. A real wood fence protects them all. Flowers, vines and bushes grow around and everything is gathered under the apple tree. Some apples have fallen on the ground, just in time for lunch.

Cow bell included.
Double strand beading.
Charm: apple tree
Face bead