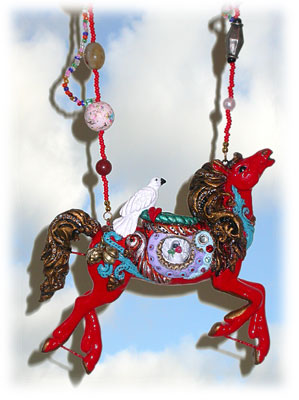 15 inch long (38cm) necklace
4 inch (13cm) figure

Evangeline in firey red has a hollow secret chamber inside her where a white dove, with a red rose in its beak lives. A wooing beau has come to claim her but will she want to leave her warm santuary?
A glass window stands between the captive dove and the outside world. There is a secret hole from which she can leave should she want to.
A half ring of vintage rhinestones frame the glass window.
Brass bells included.
Double strand beading.
Charm: colorful flowers
Face bead