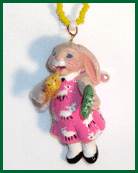 For sale Price £70
15 inch long (38cm)
bead & charm necklace
Moving part
See the bump? Mommy's expecting and right now she has such a wild and crazy craving: pickles & ice cream. She can raise her arm to lick her cone.
She's not the only mommy here, most of the charms are moms & babies. These closeups don't do them justice, but to give you an idea: momma pig & piglets,
hen & chick, ewe & lamb and cow & calf. Also a sunface and duckling hatching from its egg, plus a face bead.

Perfect gift for expecting or new mommies and it's the only one like
it in existance.

One of a kind, signed
and dated.