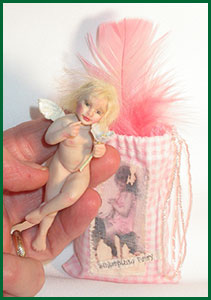 Approx. 3 inch (8cm) tall
Miniature figurine

Sugarplum FairyBaby is a precious tiny fairy doll sculpture.
She is lightly blushed in all the right places, her eyes are hand- painted pale blue, her hair is dyed lamb's wool and a bit unruly like the little mischievious fairy that she is.
Wings are of translucent clay with sparkles.
Sugarplum holds a flower and sleeps in a handmade pouch made just for her. A pretty pink feather serves as her mattress and tickler.
Satin pink drawstring.